3 Ingredient Roasted Asparagus and Brussels Sprouts
This post may contain affiliate links. If you make a purchase after clicking a link, I may earn a small commission AT NO COST TO YOU. As an Amazon Affiliate, I earn from qualifying purchases.
Asparagus and Brussels sprouts may not be the first combination that comes to mind when thinking of delicious side dishes, but trust me when I say this veggie combination is a match made in flavor heaven.
The secret of this awesome side dish is the flavors developed through the Maillard reaction… but more about that later in the post. Let's just get on with this amazing asparagus and brussels sprouts recipe!
What's Great About This Veggie Side Dish?
Well, the fact that the main two ingredients are very healthy for you is a huge bonus.
It literally takes less than 5 minutes to prep for the oven.
The way the brussels are roasted will make any hater fall in love with them!
Ingredients Required
To whip up this flavorful veggie side, you'll need the following ingredients:
Brussels Sprouts: I have seen both smaller and larger sprouts in the grocery store and both will work well. You can even use bagged, frozen brussels sprouts as well. (Be aware that using frozen sprouts won't be as crisp as starting from fresh brussels.)
Asparagus: Firm stalks with great green color are what to look for in asparagus. The frilly, flowery tops should be full and not bend over or dry.
Lemon Juice and Zest: The juice and zest help add a nice little spark of flavor to the dish.
Fresh Rosemary: This ingredient is optional. I absolutely love rosemary, next to my other favorite herb – Dill which you could also use in place of rosemary if you prefer.
Pantry Ingredients:
Avocado Oil: I use my favorite brand but you can use what you prefer. Just be sure the oil that you're using is great for roasting with a high smoke point.
Butter: Also optional but honestly, everything is better with a bit of butter!
Salt and pepper
****EAZYTIP: Ingredients like salt, pepper, garlic powder, and oil don't count towards the ingredient list because most people have these basic items in the pantry.
How To Roast Brussels Sprouts and Asparagus
To roast asparagus and brussels sprouts seriously can't get any easier, especially with this level of flavor that results.
Wash and cut the sprouts in half.
Roast, cut side down for a bit first, and then add the asparagus.
Add them to the sprouts and make the dressing.
Remove them from the oven when cooked and add the dressing, then serve!
A fully printable recipe card with exact amounts and directions is available at the bottom of this post.
Eazy Tips and Recipe Variations
If you want to customize this easy side dish by substituting some ingredients, or even adding more bulk to feed more people, you can do it in a snap.
Try switching up the dressing by using orange juice and zest instead of lemon.
For a totally different flavor profile, try making an olive oil and balsamic vinegar dressing to drizzle over top the veggies.
Add a bit of crispy cooked bacon!! YUM!
As for the main ingredients, you can switch one for cauliflower or broccoli (these will cook the same time as the brussels) or use snap peas or green beans in place of the asparagus. Heck, add them all if you have more people to feed!
***Eazy Tip: We need to roast the brussels sprouts before the asparagus because the sprouts need longer in the oven to develop the Maillard reaction (caramelization).
Meal Pairing Ideas
This side dish pairs perfectly with practically anything. Try grilled or roasted chicken (you could make it a sheet pan meal!), this 5 Ingredient Cheeseburger Casserole would be fantastic! Also, for a really delicious dinner, serve this side dish with my 3 Ingredient Bacon Wrapped Tenderloin. Lastly, serving it with some delicious salmon or halibut would be scrumptious.
If you wanted to serve an all-vegetarian meal, try siding this veggie dish with things like quinoa-stuffed peppers, roasted eggplant, or a hearty lentil stew.
Storage Freezing and Reheating
To store the roasted asparagus and brussels recipe, keep it in an airtight container in the fridge for up to 4 days.
I wouldn't freeze this dish after it's been cooked. The texture will be a lot softer in the brussel sprouts which might be offputting.
Making the Dish Ahead of Time and Freezer Meal Prep
Preparing and freezing FRESH veggies for this side dish yourself is not worth the texture payoff at the end. If you wanted to meal prep this dish, then I recommend purchasing quick frozen veggies (IQF) from the grocers. They will be individually frozen and ready for you to use.
Take a large freezer-friendly bag. Place the two vegetables in the bag, but keep them separate as they'll require different cooking times, just as they would if you used fresh ones.
Then, in a smaller bag, mix up the dressing and pop it in the bag along with the other frozen veggies. When you are ready to whip it up, remove the dressing bag and set it aside. Roast the sprouts from frozen and then add the asparagus later on. Meanwhile, the packet of dressing should be thawed and ready to go by the time everything is perfectly roasted. Just look for the recipe card below for more instructions.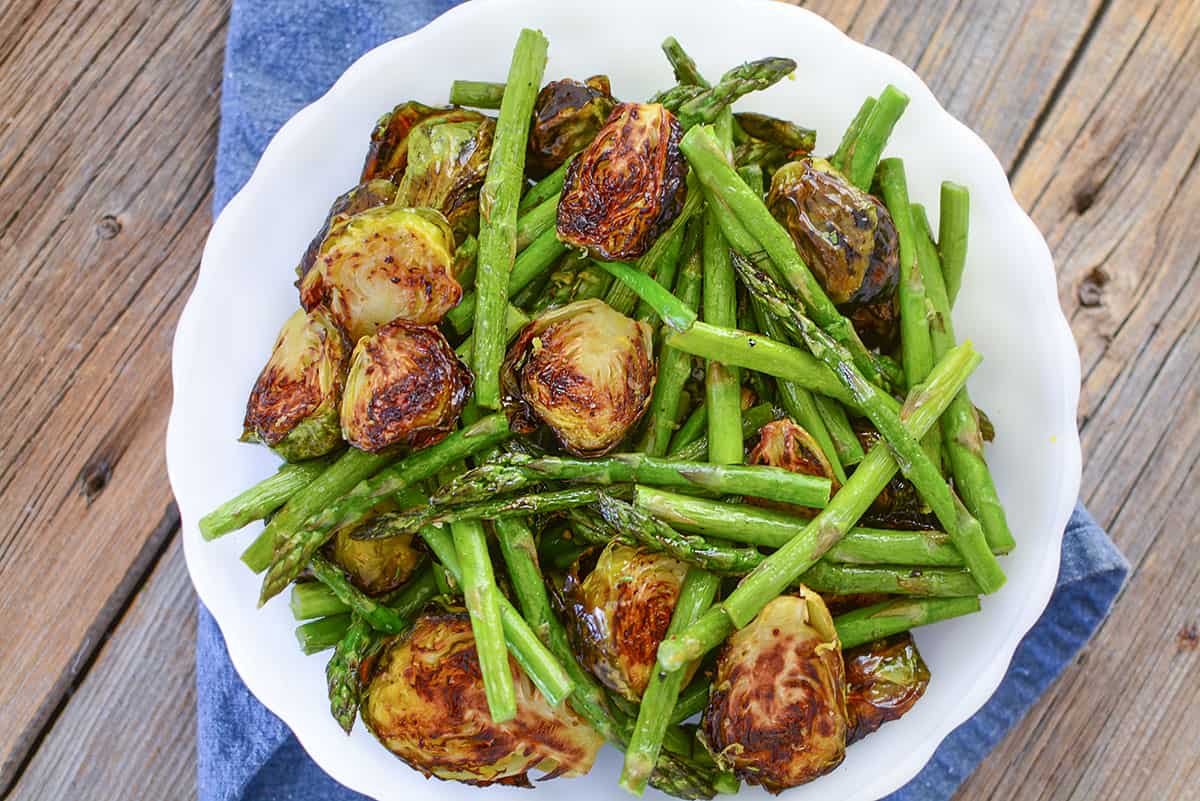 The Maillard Reaction: The Flavor Transforming Process
Believe it or not, even though brussel sprouts have a cabbage-like flavor, they DO contain a certain amount of sugar. So, when you roast the sprouts, you magically harness the power of the Maillard reaction, a chemical process that occurs when amino acids and sugars in the vegetables are exposed to higher heat.
It's a reaction that when the browning of the sprouts happens, a complex and really rich, deeper flavor is created. The caramelization of the sugars adds a depth of flavor that can elevate the dish to new heights, which can transform any brussels sprouts hater into a lover. Trust me, I know from experience.
Questions About This Asparagus and Brussels Sprouts Recipe
Do I have to blanch the brussels sprouts before I roast them from fresh?
No, you don't have to so yay for skipping that step! Roasting them without blanching them allows them to keep their natural crunch and not get too mushy in the roasting process.
How do I pick the perfect brussels sprouts and asparagus for the recipe?
Brussels sprouts should be firm, with tightly wrapped leaves around the sprout. They should be a nice color green with no signs of mold or black spots. The asparagus should be firm and green as well, not mushy, soft or wilted. The flower-looking tops (not flowers, btw) should be plump, firm, and not dried out.
Have you made this 3 Ingredient Asparagus and Brussels Sprouts side dish? Comment below if you did, I'd love to hear about it! Also, please leave a star rating in the recipe card below, it helps let more people see the recipe!
Thanks so much for stopping by Eazy Grub today, I hope you have a really great day!
~Joanne
Yield: 4 servings
3 Ingredient Roasted Asparagus and Brussels Sprouts
Only 3 main ingredients are needed to get this super flavorful roasted asparagus and brussels sprouts side dish on the table.
Ingredients
1 pound brussels sprouts
1 pound of asparagus
1 lemon, zested and juiced
1 Tablespoon avovado oil
1 teaspoon fresh rosemary, diced (OPTIONAL)
2 Tablespoons butter, melted
salt and pepper as desired.
Instructions
Preheat the oven to 400 degrees Fahrenheit, or 190 degrees celsius.
Wash, pat dry, and slice off any woody ends on the bottom of the sprouts.
Slice them in half and place into a bowl.
Drizzle with half the oil and season with salt and pepper.
Prepare the asparagus, drizzle with the remaining oil, season with salt and pepper and set aside. **see notes below.
On a parchment lined baking dish, place the sprouts cut side down on the pan.
Roast in the oven for about 30 minutes. Meanwhile, make the dressing.
In a small bowl, combine the lemon zest and juice, salt, pepper and melted butter if using. Set aside for now.
In the last 10 minutes of roasting, add the asparagus to the pan.
When roasting is complete, remove from the oven. Add the veggies back to the bowl you used earlier. Drizzle the dressing over them, gently toss and serve. Enjoy!
Notes
Take one spear of asparagus, and holding it by both ends, bend the asparagus in half, allowing the spear to snap in half naturally. This will indicate to you where the woody end ends and the tender part begins. Line up the tender area with the rest of the spears and cut them all, removing the woody ends. Check this for a video tutorial.
Nutrition Information
Yield
4
Serving Size
1 cup
Amount Per Serving
Calories

149
Total Fat

10g
Saturated Fat

4g
Trans Fat

0g
Unsaturated Fat

5g
Cholesterol

15mg
Sodium

159mg
Carbohydrates

13g
Fiber

5g
Sugar

4g
Protein

6g
All nutritional information is based on third party calculations and is only an estimate. Each recipe and nutritional value will vary depending on the brands used, measuring methods and portion sizes per household.