2 Ingredient Chocolate Banana Muffin Top Cookies
This post may contain affiliate links. If you make a purchase after clicking a link, I may earn a small commission AT NO COST TO YOU. As an Amazon Affiliate, I earn from qualifying purchases.
Everyone loves the fluffy moist top of a muffin with the caramelized sugar outer layer with just a
hint of crunch. These 2 Ingredient Chocolate Banana Muffin Top Cookies let you enjoy the top of the muffin any time you want, in cookie form.
This post may contain affiliate links. If you make a purchase after clicking a link, I may earn a small commission AT NO COST TO YOU. As an Amazon Affiliate, I earn from qualifying purchases.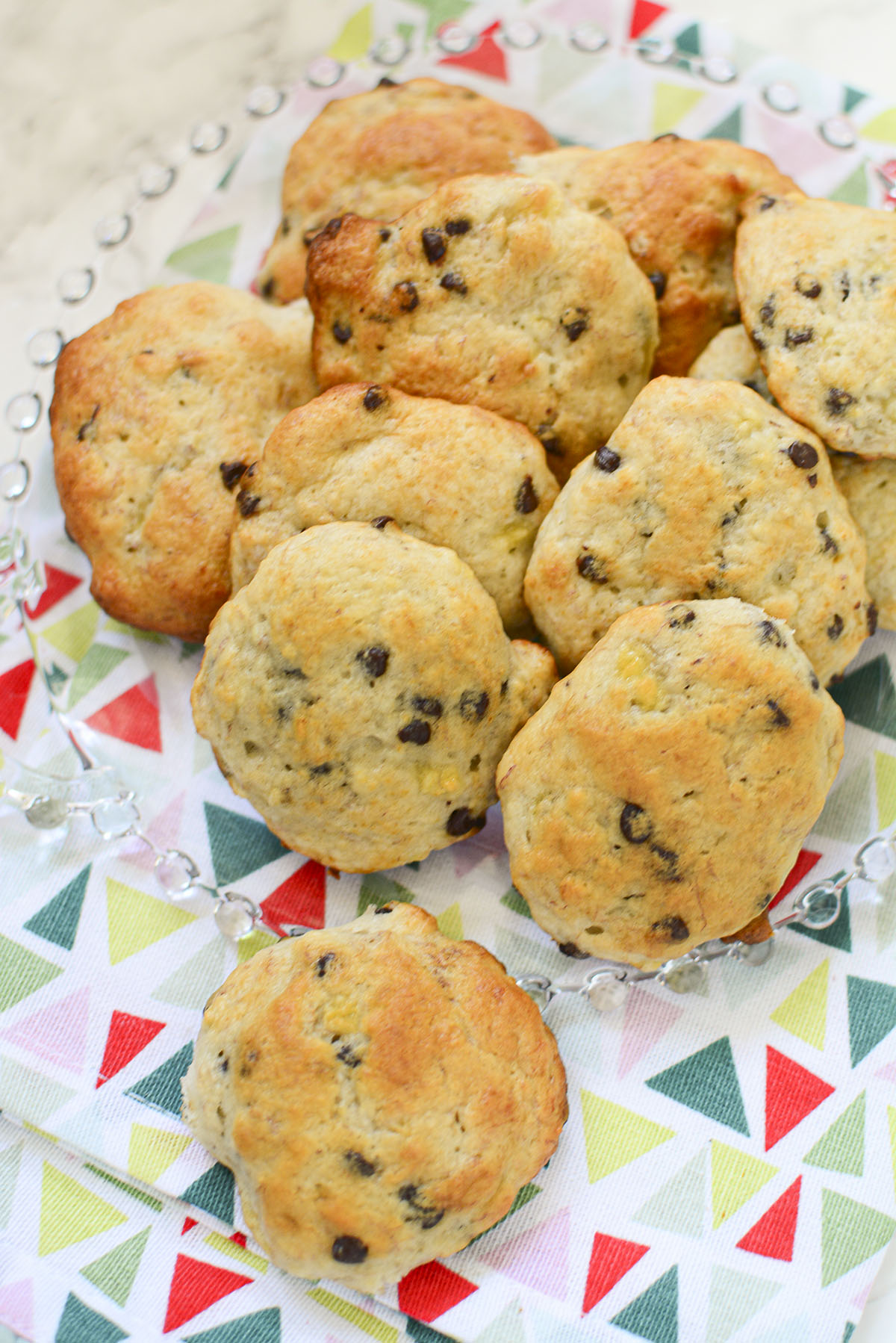 Why You'll Love these Muffin Mix Cookies

If you are looking for a relatively healthy cookie option with real fruit that doesn't take a lot of
time and effort these will land on the top of your list. Using just a couple of simple ingredients
you can make cookies that are reminiscent of the tops of your favorite banana chocolate chip
muffins.
Groceries Needed
● Chocolate chip muffin mix (Use the "Only Add Water" package).
● 2 very ripe bananas

**EAZYTIP: Salt, Pepper, Garlic powder, Sugar, and Oil are not counted in the ingredient list because most home kitchens have these ingredients in their cupboards.

How to Make Muffin Top Chocolate Chip Cookies
Preheat your oven to 375 degrees.
Start by mashing your over-ripe bananas. These should be the same sweet browning bananas you would use for your favorite banana bread.
Mix your mashed bananas into your packet of chocolate chip muffin mix and spoon out onto a lined cookie sheet. This should make roughly 18 cookies depending on how big your spoonfuls are.
Bake on the center rack for 8 – 10 minutes until the muffin top cookies have puffed up and the edges have started to turn a golden brown.
Remove your cookies from the oven and let them sit for about an hour to ensure that they have cooled and set. If you try to move them too soon, they may be too fragile and fall apart.
Do I Add the Water Called for on the Package?
Nope. No need. The moisture from the banana will be plenty for making the muffin top cookies recipe.
Suggestions for Putting a Twist on It
The cool thing about these muffin mix cookies is that it is really easy to make them on your own.
All you have to do is simply swap for a different type of muffin mix. There are a wide variety of muffin mixes on the market and all of them taste amazing with a simple sweet banana such as blueberry, carrot, raspberry, etc.
You can take it up a notch and personalize them or make use of items around your kitchen by
adding diced fruit, nuts, and candies to your chocolate muffin mix cookies for a truly custom muffin top perfect for any occasion or none at all.
It's important to note that you don't add more than a few tablespoons of an add-in to the recipe. The cookies may not rise or hold together properly if too many additional ingredients are added.
If you want to make these a bit healthier try adding a scoop of quick oats or a bit of your favorite
protein powder, similar to my 4 Ingredient Chocolate Chunk Cookies that contain wholesome oats.
What Can I Serve these Cookies With?

These banana cookies are great for serving with a glass of milk like any of your favorite cookies but the real fun part is putting a plate of these cookies on the breakfast table and watching everyone get excited.

These are perfect for brunch or taking to your weekend service to serve as refreshments.
Storing Leftovers

If you do happen to have leftover cookies, these ones should skip the cookie jar and instead go
into an air-tight container that won't encourage them to dry out quickly.
Keep your leftover banana muffin top cookies in a cool dark place and use them within a few days. If you need them to last longer they can be stored in the refrigerator for up to a week or in the freezer for a few months just like with fresh muffins.
Did you make this recipe? Please leave a comment and a *****STAR***** rating below! Thanks for coming by today!
~Joanne
Yield: 18 cookies
2 Ingredient Banana Chocolate Chip Muffin Top Cookies
2 Ingredient Chocolate Banana Muffin Top Cookies are easy to take and go like other cookies, and taste like the delicious parts of yummy muffins!
Ingredients
1 package Chocolate chip miffin mix, 6.5 ounce packet, (see notes below)
2 bananas, very ripe
Instructions
Preheat the oven to 375
Mash the bananas in a bowl so they are almost a liquid consistency.
Add in the muffin mix and blend well.
Spoon the batter onto a parchment-lined (or very well greased) cookie sheet.
Bake for approximately 10 minutes or until the bottom edges of the cookies look golden brown.
Remove from the oven and let cool completely.
Notes
The bananas should be VERY ripe, where the outside skin is very spotted to almost black.
When the cookies are removed from the oven and cooled, carefully remove them from the baking sheet and leave them to set up (dry out a bit) on a cookie rack. This step is optional as the cookies will be soft (like muffin tops). I like to leave them sit out a bit longer so the browned edges get even more crispy, and the inside remains soft and delicate.
Nutrition Information
Yield
18
Serving Size
2 cookies
Amount Per Serving
Calories

61
Total Fat

3g
Saturated Fat

2g
Trans Fat

0g
Unsaturated Fat

1g
Cholesterol

0mg
Sodium

1mg
Carbohydrates

10g
Fiber

1g
Sugar

7g
Protein

1g
All nutritional information is based on third party calculations and is only an estimate. Each recipe and nutritional value will vary depending on the brands used, measuring methods and portion sizes per household.