2 Ingredient Rolo Pretzel Bites
This post may contain affiliate links. If you make a purchase after clicking a link, I may earn a small commission AT NO COST TO YOU. As an Amazon Affiliate, I earn from qualifying purchases.

These 2 Ingredient Rolo Pretzel Bites are a classic sweet and salty mix making the perfect treat that is easy to make for parties, holidays, and in small batches for late-night snacks.
These have the perfect mix of sweet and salty from the chocolate-covered caramel and the salty
pretzels. Topping with the second pretzel really enhances the salty crunch.
Why You'll Love Rolo Pretzel Bites
These Rolo Pretzel Bites are super easy to make which makes them a favorite for people
looking for something easy to put together that will be a hit at any gathering
They're only two ingredients, making this a super easy recipe to put together for any skill level.
Tiny enough yet tasty enough for awesome gift-giving, any time of the year!
Groceries Needed
● Rolos
● Pretzels: Square pretzels are the ones I prefer to use for this recipe, but you can also use the standard-looking bow pretzel but I would recommend using the mini size.
**EAZYTIP : Salt, Pepper, Garlic powder, and Oil are not counted in the ingredient list because most home kitchens have these ingredients in their cupboards.

How to make Rolo Pretzel Bites?
These are so easy! When you've made them once, you'll always come back to this recipe because their so delicious and even the little ones can help you make them!
Preheat your oven to 350 degrees.
Line a baking sheet with parchment paper or a silicone baking mat. This will make it easier to remove them after the caramel and chocolate melt.
Line your pan with pretzels leaving a tiny bit of space between them. You can place them closer than I did to get more done faster.
Bake at for about 3 minutes until the Rolos have softened.
Remove from the oven then top with a 2nd pretzel pushing down to make a sandwich with a Rolo in between.
For a complete guide to ingredient amounts and directions, look below at the bottom of this post for a printable recipe card.
How long do you cook pretzel rolos?

Rolo Pretzel bites soften very quickly and are ready in about 3 minutes. They are perfect for
running between batches of cookies or other baked goods while the oven is already warm. If
you are unsure if they are ready for the second pretzel, try pressing one pretzel down on the top of the closest one.
If it collapses down easily, they are ready.
Suggestions for putting a twist on the recipe

● Different Pretzels: Switch it up using different pretzel shapes. The waffle style there is great because they make the perfect Rolo sandwiches but you can make these using other types of pretzels you find at your local grocery store.
● Adding Nuts: Try adding nuts to your Rolo Pretzel Candies leaving out the top pretzel. Leaving off the top pretzel and using a pecan half to press down the Rolo candy makes these super delicious as well.
● Different Candies: You can mix this up by using different candies. These work great with soft chewy caramels, Hershey's Kisses, or mini Reese cups.

How do I serve these caramel chocolate candy treats?

These are a great treat for serving at holiday parties, cookouts, and other gatherings. Try arranging them on a snack/candy platter featuring other sweet treats like my 3 Ingredient Moose Poop Candy!
Serve them on a side of a cup of hot cocoa in the winter, or if you want something totally unique, try roasting a marshmallow, then use the pretzel candy as a 'utensil' to scrape the marshmallow off the stick, essentially making a "Pretzel Smores"!
These can also be used in a snack mix with other sweet and favorite ingredients to make your favorite homemade snack mix stick out from the crowd.
Storing the leftovers
Store your leftover Rolo Pretzel Bites in an air-tight container in a cool space.
In the summertime, you may want to keep them in the refrigerator to keep the chocolate from melting on hot days. However, on regular temperature days, storing them in a cabinet away from the stove will be fine.
Can you freeze Rolo Pretzel bites?
While most of the time these will not last long enough to freeze, if you are making them well
ahead of time to help give you more time later, you can freeze Rolo Pretzel Bites without issues
for 2-3 months.
Leave plenty of time to thaw when you want to serve them. Overnight is best, but you'll need a minimum of a few hours.
Why does the chocolate on my Rolo's look like they have a white film on them?
This is called the "chocolate bloom". According to My Panier, it simply has to do with moisture levels affecting either the sugar or the fat content in the chocolate.
It's totally fine to eat, it's not harmful in any way.
Did you try this recipe? If so, I'd love to hear what you thought of it in the comment section! Have a fantastic day Eazy Family!
Yield: 28 candies
2 Ingredient Rolo Pretzel Bites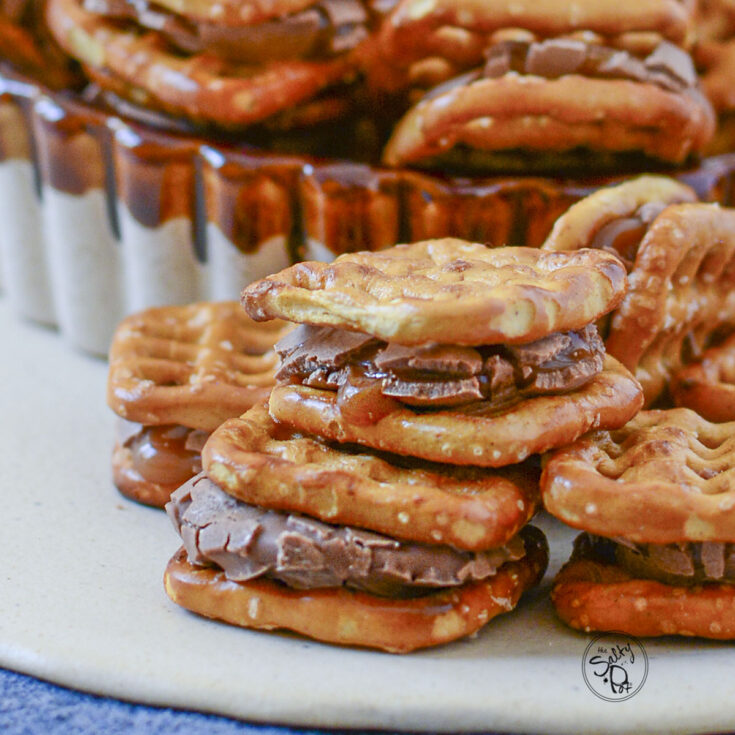 Filled with rich caramel and chocolate, these 2 Ingredient Rolo Pretzel Bites are the perfect sweet and salty bite every time.
Additional Time
2 minutes
Ingredients
4 rolls of Rolo Candy (7 pieces in each roll)
48 Pretzel squares
Instructions
Start by preheating the oven to 350.
While it's preheating, line a baking dish with parchment paper or a silpat liner. Lay out 28 pretzels, spaced evenly on the sheet.
Unwrap each Rolo candy and place one rolo on top of each pretzel.
Place in the oven for 2-3 minutes, watching them closely. The candies shouldn't collapse and melt, but they will look glossy as they soften.
Remove from the oven and working quickly, top each Rolo candy with another pretzel, pushing down to sandwich the candy between each piece of pretzel. Let cool and enjoy!
Notes
Square pretzels work perfect for this candy, but you can also use the mini pretzel shapes as well. Anything bigger, like standard pretzel shapes will be too big to hold the Rolo candy in place.
You can leave the top pretzel off and instead substitute a half pecan for some nuttiness to the candy.
If the candy you are working with has a white film on it, this is called the "bloom" chocolate. It's harmless and simply means the chocolate is not as fresh as it could be.
Nutrition Information
Yield
28
Serving Size
4
Amount Per Serving
Calories

205
Total Fat

2g
Saturated Fat

0g
Trans Fat

0g
Unsaturated Fat

1g
Cholesterol

0mg
Sodium

627mg
Carbohydrates

42g
Fiber

2g
Sugar

2g
Protein

5g
All nutritional information is based on third party calculations and is only an estimate. Each recipe and nutritional value will vary depending on the brands used, measuring methods and portion sizes per household.