4 Ingredient Stove Top Stuffing Turkey Meatloaf
This post may contain affiliate links. If you make a purchase after clicking a link, I may earn a small commission AT NO COST TO YOU. As an Amazon Affiliate, I earn from qualifying purchases.
This 4 Ingredient Stove Top Stuffing Turkey Meatloaf is deliciously seasoned with the help of turkey stove top stuffing. It's yummy as it is, but when you add the whole berry cranberry glaze, it really takes it to a festive place that's just so delicious.
This festive turkey meatloaf can be made any time of the year, but I especially like it for around the holidays. It gives you all the flavors of the traditional turkey dinner, with a fraction of the work.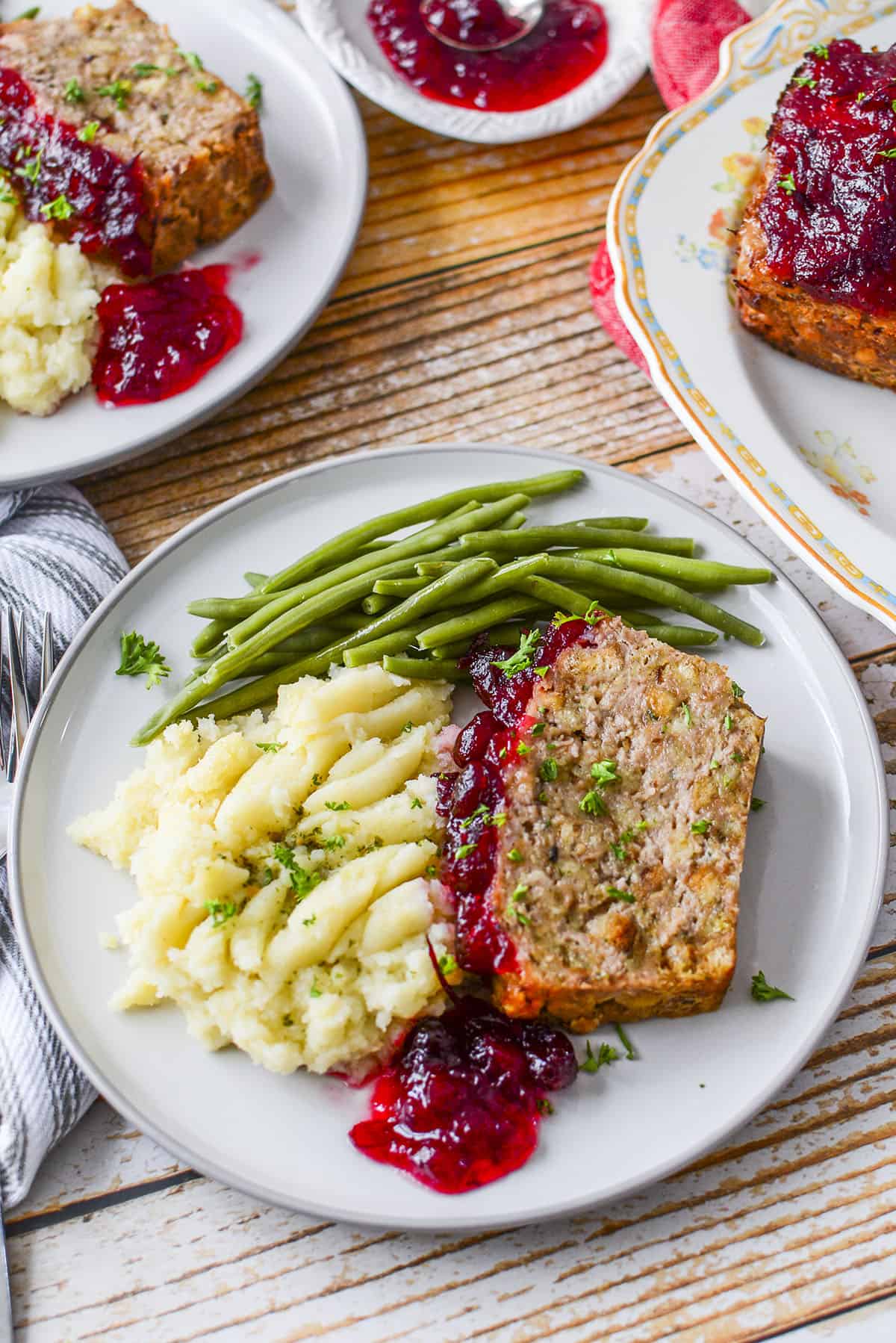 Why You'll Love this Easy Turkey Meatloaf with Cranberries
Ok, seriously – turkey, meatloaf and cranberries – Do I have to say more?!
This turkey meatloaf recipe takes about 5-6 minutes to put together and get in the oven.
Because it's only 4 ingredients, it's relatively inexpensive to make.
No more hassles of cooking a huge turkey and all the fixings for those lovely holiday flavors, plus not as many leftovers!
Groceries needed:
Ground Turkey– I used 100% turkey but if you wanted to increase the fat content, you could mix half turkey and half ground pork.
Eggs – You need the eggs in this recipe so everything holds together. The yolks also will add some richness as well.
Stovetop Stuffing – Turkey flavor is the one you want to use for this turkey meatloaf. If you can't find it, using chicken is the next best option. There's no prep for the stuffing, you use it right out of the box as is!
Cranberry Sauce– The kind of cranberry sauce that has actual whole cranberries in the sauce is ideal to use. I think the texture is perfect to top the meatloaf with instead of using just the jelly.
Pantry Items
Salt and pepper: These two spices are used according to your taste preferences.
Eazy Tip: Remember, salt, pepper, garlic, oil, sugar, and water don't factor into the ingredient count because most people have those pantry items in their kitchen.
How to make this Stove Top Stuffing Turkey Meatloaf recipe
You'll want to start by preheating the oven because seriously, just like my regular 4 Ingredient Meatloaf recipe, the assembly takes about 5 minutes. You're basically putting (almost) everything in a bowl, mixing it and then putting it in the loaf pan.
Your oven might take longer to preheat than it takes to make this recipe!
You'll put it in the oven to bake and then top it with the cranberry sauce. This recipe is such a delicious 'go-to' when you want that traditional turkey and stuffing flavors, it definitely satisfies those cravings!
The printable recipe card is below for all the specific directions to make this meatloaf perfect.
AN EAZY TIP: Just like my other meatloaf recipe, it's a good idea to spray the loaf tin with an oil spray just so the meatloaf doesn't stick. If you don't have a spray to use, butter can substitute perfectly. If you haven't that on hand, try using parchment paper to line the loaf tin with. DO NOT use wax paper.
Putting a twist on this Turkey Meatloaf with Stovetop
I'm always about adding little bits of extra flavor when you can. Sauteing some celery, onions, and diced carrots with some garlic and then adding it to the stuffing before assembling the turkey meatloaf is excellent.
Try adding some fried bacon that's been chopped up. Don't go overboard but a few slices mixed in with the turkey will add even more moisture and a nice hint of salty-smokiness.
Now don't think I'm crazy, but when the meatloaf comes out of the oven, try sprinkling a small handful of toasted and chopped walnuts over the top of the cranberry sauce. It adds some more texture and the nuttiness is amazing!
Adding fresh herbs is always a good idea. Since we are trying to echo those holiday flavors, herbs like sage, rosemary, and thyme put into the mix would be lovely.
What Sides to Serve
Easy peazy. Think comfort, think Sunday dinner, think Thanksgiving. Any sides you'd serve then, you can serve with this turkey and cranberry meatloaf. I've served delicious mashed potatoes and buttery carrots for instance.
If you were making this meatloaf as your Thanksgiving dinner main, then why not make an easy 3 Ingredient Roasted Asparagus and Brussels Sprouts, some green beans, and these delicious 4 Ingredient Cheesy Garlic Knots to really hit home those festive flavors!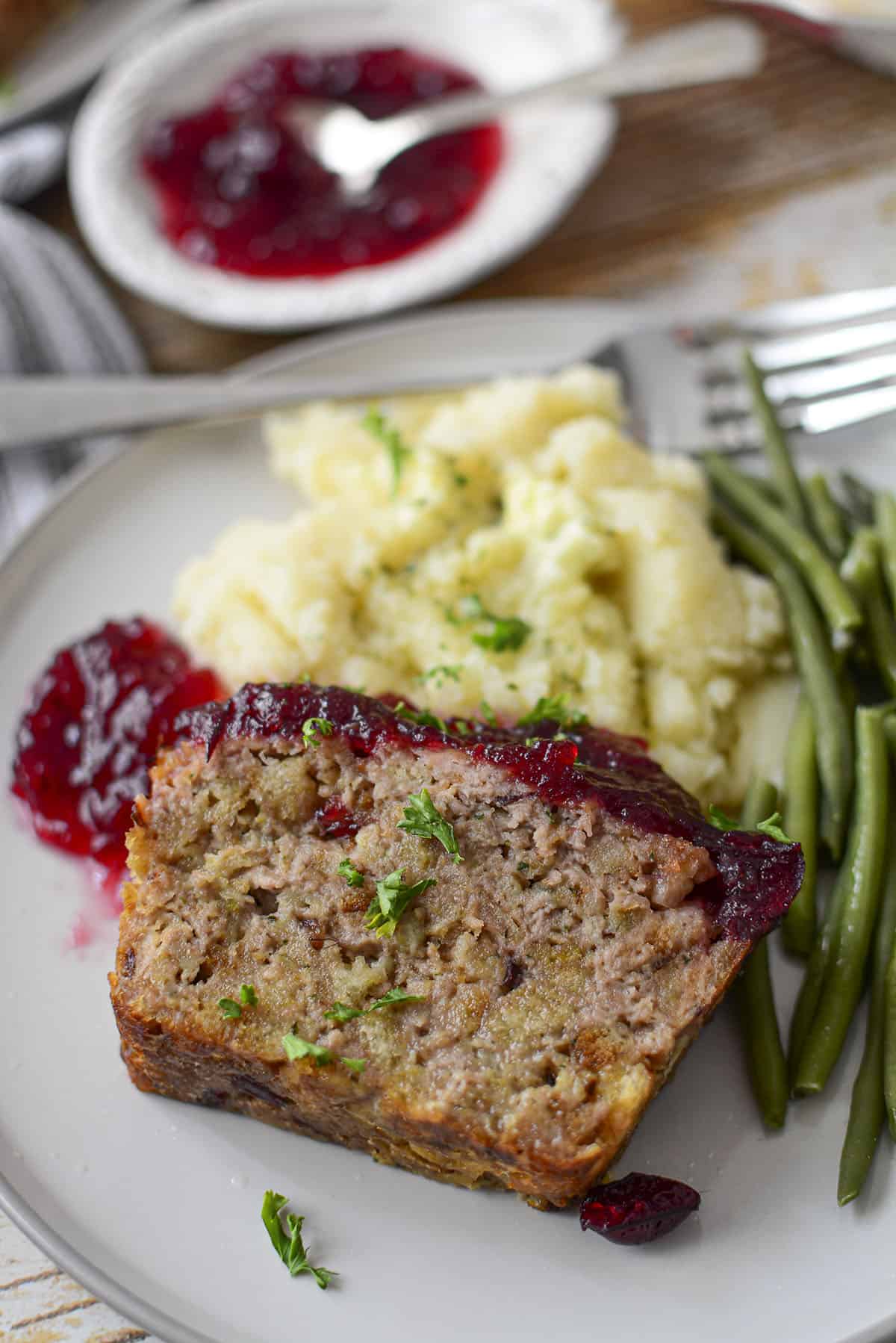 Storing Leftovers
This delicious stove top turkey meatloaf will last up to 4 days in the fridge as long as it's in a nice, air-tight container.
To reheat, a minute or two in the microwave will do, but if you have a toaster oven or an air fryer would work even better.
You could even try frying it on the stovetop. Put some oil or butter in the pan and place the slices in the skillet and cover. If you're worried about the meat drying out, just drizzle a few tablespoons of water into the pan and cover, letting the slices steam through to warm up.

Freezing the leftovers works beautifully. Again, using a freezer-friendly, tight-fitting container to prevent freezer burn is essential. Freeze for up to 3 months, then let the meatloaf thaw in the fridge overnight or a couple minutes in the microwave will work well too.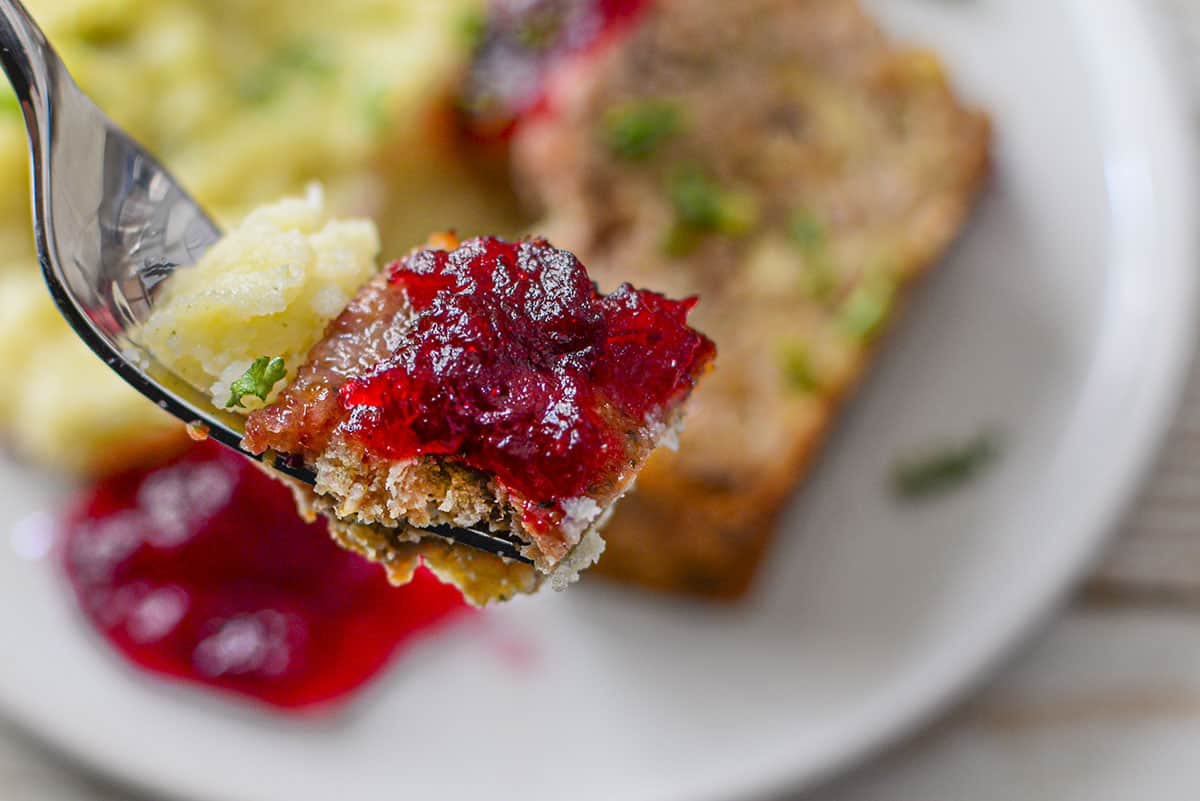 Questions You Might Have
Can I add a bag of fresh cranberries to the meatloaf?
Well, technically you could and I don't think it would affect the texture, but because cranberries are fairly tart on their own, it might be the greatest eating experience. If you want to add any sort of cranberry, try adding sweetened dried cranberries. A handful of chopped berries would be delicious!
I don't have a loaf pan. How else can I make this recipe?
Having a loaf pan isn't necessary to make this meatloaf. You can basically make it any sort of baking dish, but the easiest way is to use a baking sheet and free-form the meatloaf into a 'loaf' shape. Just follow the rest of the directions in the recipe card as usual.
Well my lovelies, I hope you give this delicious stove top stuffing turkey meatloaf a shot. It's really so easy, and it's perfect to make if you're not into making the whole roast turkey holiday spread.
If you tried this recipe, please give a star rating on the recipe card, and leave me a comment below. Did you switch it up? I'd love to hear about it!
~Joanne
Yield: 1 meatloaf
4 Ingredient Stove Top Turkey Meatloaf with Cranberry Sauce
Thanksgiving flavors without all the work. Savory turkey and stuffing mixed and topped with delicious cranberry sauce.
Additional Time
5 minutes
Ingredients
1 pound ground turkey
1 box Stove Top Stuffing mix, 4 ounces, turkey flavored
2 eggs
1 can Whole Berry Cranberry Sauce
Salt and pepper as desired.
Instructions
Preheat the oven to 350 degrees Fahrenheit
In a large bowl, combine the ground turkey and the stove top stuffing, (dry mix, not prepared), the eggs, and a 1/4 cup of the cranberry sauce. Add salt and pepper if desired.
Grease or line (with parchment) the loaf pan and transfer the meat mixture into the pan.
Bake in the oven for 40 - 45 minutes or until the internal temperature reaches 160F.
Once it reaches temperature, spread the remaining cranberry sauce over top and turn the oven to broil. Broil for approximately 2-3 minutes or until the top begins to bubble and get some caramelization.
Remove from the oven and let rest for 5 minutes before serving.
Notes
The five minute resting time is important so that the juices in the loaf can redistribute throughout and it will slice nicer.
You can mix the protein for this meatloaf using half turkey and half pork if you wanted a higher fat content.
While broiling, watch the sauce so that it doesn't burn due to a higher sugar content.
If you wanted to skip adding the sauce to the turkey and use dried cranberries instead, I recommend using sweetened cranberries over non sweetened ones.
Nutrition Information
Yield
4
Serving Size
1 slice
Amount Per Serving
Calories

506
Total Fat

25g
Saturated Fat

7g
Trans Fat

0g
Unsaturated Fat

16g
Cholesterol

244mg
Sodium

272mg
Carbohydrates

30g
Fiber

1g
Sugar

22g
Protein

41g
All nutritional information is based on third party calculations and is only an estimate. Each recipe and nutritional value will vary depending on the brands used, measuring methods and portion sizes per household.